Join Joe at the EAPD March 28: Support Breakthrough Democrat Joe Bray-Ali in Runoff & Meet Katie Hill, Democrat for Congress in CD-25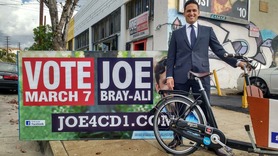 EAPD urges all members to attend the March meeting of the club:
Tuesday, March 28
7 pm
Goodwill Fletcher Square 
3150 N. San Fernando Rd.
ample free parking in front lot; on Metro bus routes; accessible venue.
Speakers include our endorsed progressive Democrat and EAPD member Joe Bray-Ali, who has earned a runoff in the contest for Council District 1, gaining nearly 40 percent of the vote despite being outspent 5 to 1; and progressive Democrat and EAPD member Katie Hill, director at People Assisting The Homeless (PATH), who announced March 8, International Women's Day, that she is challenging Republican incumbent Steve Knight in 2018 for the 25th Congressional District seat representing her home area of Agua Dulce, Santa Clarita, Lancaster, and Palmdale in the Conejo and Antelope Valleys in northern L.A. County. 
You won't want to miss this opportunity to lend a hand to Joe and meet Katie and get involved in EAPD's program to support local Democrats in the Antelope Valley in building a base of progressive voters and mobilizing their Democratic neighbors to win in 2018, 2019, and 2020.
WHEN
March 28, 2017 at 7pm - 10pm
CONTACT
Michael Atkins · · 323-379-3011